Investigating a conflict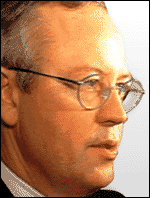 Kenneth Starr is proposing an "independent" investigator to look into the David Hale payments probe. The question is, how independent?
- - - - - - - - - - - - - -
BY MURRAY WAAS
WASHINGTON -- Independent counsel Kenneth Starr has proposed to the Justice Department that a new investigator who would ultimately report to Starr -- but who would also have "total and complete independence and autonomy" -- be named to probe allegations that a key witness in Starr's Whitewater investigation received cash payments and other gratuities from anti-Clinton political activists, federal law-enforcement officials said Monday.
The Justice Department and the independent counsel have been negotiating about how best to investigate the allegations that the witness, Hale, received such payments.
Under the proposal offered by Starr, the investigator would have a staff of FBI agents and support personnel who would operate independently from both Starr's office and the Justice Department. The FBI agents involved in the investigation would not have previously worked on Starr's Whitewater probe, the sources said.
One federal law-enforcement official said that in his view it was not clear whether the special investigator would have the power to bring criminal charges in the matter, should he determine that a crime had been committed. "It would hardly be an independent investigation, if at the end of the day, the Whitewater independent counsel is the person who determines whether criminal charges are brought," the official said last week. "Then we would have to go through this process all over again." It was not known Monday whether that potential sticking point had been resolved.
Starr's office has proposed several potential candidates for the position, sources said. They include William Webster, a former FBI director and CIA director; Arlin Adams, a former independent counsel who investigated charges of corruption in the Department of Housing and Urban Development during the Reagan administration, resulting in the conviction of Interior Secretary James Watt; and Michael E. Shaheen Jr., a former senior level Justice Department official. None of the men could be reached for comment on Monday.
Just last week, the White House announced that Webster and Shaheen would jointly review some of the controversial practices of the IRS criminal division, which have been aired in congressional hearings.
"The person named should have the confidence of both the Justice Department and Judge Starr," said one official, "and he should be someone who the American people have confidence in as well." The Justice Department did not return phone calls seeking comment on the proposal.
The call for an investigation came April 9, when Deputy Attorney General Eric Holder wrote Starr that the allegations of payments to Hale "from individuals seeking to discredit the President during a period when Hale was actively co-operating with your office ... encompasses obstruction and witness tampering matters."
While urging that the independent counsel investigate the matter, Holder also pointedly stated that "there have been suggestions that your office would have a conflict of interest ... in looking into this matter, because of the importance of Hale to your investigation and because the payments allegedly came from funds provided from [conservative billionaire Richard Mellon] Scaife."
Scaife funded the Arkansas Project, an operation organized through the American Spectator magazine that sought to investigate and discredit President Clinton. Money from the Arkansas Project was allegedly used for payments to Hale.
Justice Department officials and outside ethics experts have said that Starr might have a potential conflict of interest in investigating anything regarding Scaife because Starr was slated until recently to become dean of Pepperdine University's schools of public policy and law. Scaife had provided approximately $1.35 million in funds to start up Pepperdine's new school of public policy.
Holder's letter concluded: "Should you believe that this matter would be better investigated by the Department of Justice, we would be prepared to accept a referral from you."
One week later, Starr replied to Reno, saying in a letter he made public that his office had indeed "concluded that any investigation of these allegations may involve at most the appearance of a conflict of interest on the part of the [Office of Independent Counsel]. We also note, however, that the Department of Justice may have not only an appearance problem but multiple actual conflicts of interest in connection with an investigation of Mr. Hale."
Foremost among several conflicts Starr cited was that Justice would have "a conflict potentially arising from the fact that Mr. Hale has provided information that is damaging to the President of the United States."
To address those issues, Starr said, "The OIC has developed proposed alternate mechanisms for investigating this matter in a manner that comports fully with our respective obligations and with the public's interest in the proper and honest administration of justice."
Starr also announced at a press conference the same day he released the letter from Holder that he would not accept the Pepperdine deanships. "I had eagerly looked forward to spending many happy years at Pepperdine after completing my duties as independent counsel," Starr said. "The work of that office, however, has expanded considerably and the end is not in sight."
Salon disclosed on March 17 the alleged payments to Hale by Parker Dozhier, a Hot Springs, Ark., bait shop owner who has said he was paid $48,000 to be the "eyes and ears" in Arkansas for the American Spectator magazine. The Associated Press had reported earlier that Dozhier had provided Hale with the free use of a fishing cabin and car.
Around the same time that Salon published its story, FBI agents in Arkansas first interviewed Caryn Mann, Dozhier's former live-in girlfriend, who told Salon and other media outlets about Dozhier's alleged role in giving money and other gratuities to Hale. They also spoke to Mann's son, Joshua Rand, who claimed he saw money changing hands between Dozhier and Hale. Both Hale and Dozhier have denied the allegations.
Within days, however, Justice Department officials told FBI agents in Arkansas to stand down temporarily and take no new investigative steps until the issue of who would investigate the charges was resolved. At the time, the FBI had made recommendations as to other witnesses who might be interviewed and financial records that might be examined.
There has been no further investigation of the allegations, pending resolution of the jurisdictional dispute between the Justice Department and Starr's office, sources said. "What we do know is that we do not know a lot," said one law-enforcement official, expressing some frustration with the pace of the investigation. "There have only been two interviews conducted [by the FBI]. We do not know if the Office of Independent Counsel has a more severe conflict."
Debbie Gershman, a spokeswoman for the independent counsel's office, did not return phone calls seeking comment.
Meanwhile, in a related development, the Whitewater federal grand jury in Little Rock again indicted Susan McDougal, a former business partner of President Clinton and Hillary Rodham Clinton, this time for criminal contempt and obstruction of justice for refusing to answer grand jury questions posed to her last week.
McDougal's brother, William Henley, told the Associated Press that McDougal plans to present evidence at any future trial that Hale allegedly received financial aid from critics of the president.
"I think [a trial] is going to give us an opportunity to show what a tainted investigation this was ... If it will give us the opportunity to bring evidence forward and to bring witnesses forward, Susan is more than willing to go through this."
SALON | May 5, 1998
Investigative reporter Murray Waas is a frequent contributor to Salon.