S P E C I A L_R E P O R T
Clinton administration failed to monitor China's use of missile-technology exports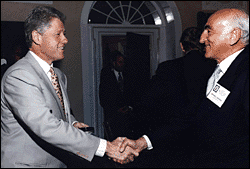 Above: President Clinton greets Bernard L. Schwartz
---
WHITE HOUSE IGNORED PENTAGON WARNINGS ABOUT
DIVERSION OF TECHNOLOGY TO CHINESE MILITARY.
BY MURRAY WAAS | The Clinton administration between 1993 and 1996 allowed numerous exports of potential ballistic-missile technology to the Chinese government despite China's refusal, in some instances, to allow inspections to assure that the technology was only being used for civilian purposes, according to classified documents and four U.S. government officials.
Moreover, as early as 1993, a classified Pentagon study raised questions about the possible diversion of U.S. technology by the Chinese military for China's ballistic-missile program, according to the documents and sources. Defense Department officials privately charge that the Clinton administration ignored its warnings regarding the potential diversions.
U.S. oversight of high-technology exports to China has been hampered by the fact that there has been no formal arrangement with China to allow for inspections, according to a Clinton administration official: "We don't have an agreement with China for postshipment verification checks."
Two senior administration officials told Salon that the Clinton administration has been quietly discussing with the Chinese the possibility of reaching an agreement to allow for inspections. "We have made it clear to them that our ability to license dual-use technology in the future will be in part dependent upon our ability to satisfy ourselves through our postshipment checks," said one senior official.
Last week, House Speaker Newt Gingrich and Senate Majority Leader Trent Lott announced that they were going to coordinate congressional investigations of the Clinton administration's China policy. Congressional Republicans demanded an investigation after the New York Times disclosed last week that the Clinton administration had granted a waiver to L