Starr's investigation to be investigated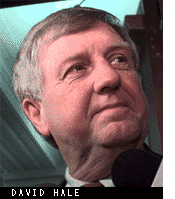 FORMER JUSTICE DEPARTMENT WATCHDOG MICHAEL J. SHAHEEN WILL PROBE ALLEGED PAYMENTS TO KEY WHITEWATER WITNESS DAVID HALE.
BY MURRAY WAAS | A former senior Justice Department official, Michael E. Shaheen Jr., has been named to probe allegations that David Hale, the central witness in independent counsel Kenneth Starr's Whitewater investigation, received cash payments and other gratuities from conservative opponents of President Clinton.
Shaheen, who previously headed the Justice Department's Office of Professional Responsibility, will investigate allegations that Hale received the payments during the period he was cooperating with Starr's Whitewater investigation, and also whether the alleged payments affected his testimony, according to federal law enforcement sources.
Shaheen's appointment was recommended by Starr, but the former Justice Department internal watchdog will report to a panel of retired judges instead of Starr or Attorney General Janet Reno, the sources said.
The panel includes Charles Renfrew, a former federal judge and deputy attorney general during the Carter administration, and Arlin Adams, a former independent counsel who investigated corruption at the Department of Housing and Urban Development during the Reagan administration. Renfrew will select a third former judge to serve on the panel.
Officials said it was the first time in history that an outside investigator has been named to examine any aspect of an independent counsel's probe.
It could not be learned last night whether Shaheen will be able to expand his investigation should he uncover wrongdoing by Hale or conservative political activists other than the alleged payments.
In an interview with Salon, Tona M. DeMers, an Arkansas attorney representing Hale, denied that her client had received payments from Clinton opponents and said that the federal investigation would clear her client. She suggested that the allegations were the result of efforts by supporters of the president to discredit Hale.
Hale's testimony proved critical to Starr in obtaining convictions against Arkansas Gov. Jim Guy Tucker and James and Susan McDougal, the Clintons' former partners in the failed Whitewater land deal. Tucker and the McDougals were found guilty of defrauding the Small Business Administration and a savings and loan.
Hale also alleged that President Clinton had pressured him to obtain a fraudulent loan from the SBA, and that Clinton had lied under oath about this. But Starr has found little evidence to substantiate Hale's allegations. And there have been serious questions about the credibility of Hale, who pled guilty to two felonies in the Whitewater case.
DeMers also criticized Starr for being more harsh on her client than on other Whitewater defendants. She noted that Hale spent more time in prison than Tucker or James McDougal.
"Compared to other players in this thing, his (Hale's) role was relatively minor," said DeMers. "He has the least number of felony indictments and felony convictions of anybody else who has played a part in this thing. Yet he's the one who suffered the most and served the most time. That's inherently unfair in my book."
Salon first disclosed the alleged payments to Hale by Parker Dozhier, a Hot Springs bait shop owner who has admitted to being paid $48,000 to be the "eyes and ears" in Arkansas for the conservative American Spectator magazine. Dozhier has denied making payments to Hale, but has said that he did provide Hale with the free use of a car and a fishing cabin.
Shortly after Salon's March 17 report, the FBI interviewed Caryn Mann, Dozhier's former live-in girlfriend, and her 17-year-old son, Joshua Rand, who have said they have firsthand knowledge of the payments.
"This is good news," Mann said yesterday about the Hale probe. "Something might finally be done now."
The investigation of the alleged Hale payments was delayed by a dispute between Starr's office and the Justice Department.
On April 9, Deputy Attorney General Eric Holder wrote Starr that the FBI had uncovered evidence that Hale might have been paid off by "individuals seeking to discredit the president during a period when Hale was cooperating with your office." Holder also related that the preliminary inquiry had uncovered evidence of potential "obstruction and witness tampering matters."
While urging Starr to investigate, Holder also pointedly stated that "there have been suggestions that your office would have a conflict of interest ... in looking into this matter."
Holder was referring to the fact that the alleged payments to Hale might have originated with the Arkansas Project, an anti-Clinton effort funded by Pittsburgh billionaire Richard Mellon Scaife through the American Spectator. At the time, Starr was slated to become dean of Pepperdine University's schools of public policy and law. Scaife had provided more than $1.35 million in funds to start up the public policy school.
"Should you believe that this matter would be better investigated by the Department of Justice, we would be prepared to accept a referral from you," Holder wrote Starr.
Sources close to Starr say the independent counsel and some of his top aides were surprised and angered by the public release of Holder's letter by the Justice Department. Relations between Starr and the Justice Department were already beginning to strain because the department was supporting the Secret Service in its efforts to avoid providing testimony regarding the Monica Lewinsky matter.
A week later, Starr replied to the Justice Department, saying that he would have "at most the appearance of a conflict of interest." In contrast, Starr charged, the Justice Department "may have not only an appearance problem but multiple actual conflicts of interest in connection to any investigation of Mr. Hale."
Starr proposed that an outside investigator be named to examine the charges against Hale. A senior advisor to Starr said the investigator would have "total and complete autonomy" but would still report his findings to Starr, who would decide how to proceed.
Justice Department officials rejected that position, sources said, seeking a more independent investigator. For a while, there seemed to be no resolution to the impasse in negotiations between the department and Starr.
Starr finally agreed that the Hale probe should be conducted entirely autonomous of his Whitewater investigation after Shaheen privately counseled him that an independent inquiry would have more credibility with the public, sources said.
SALON | June 3, 1998
Murray Waas reports regularly for Salon from Washington, D.C.
- - - - - - - - - - - - - - - - - - - - - - -
T A B L E _.T A L K
Should the investigation of David Hale be allowed to expand to include Kenneth Starr? Share your thoughts in the Politics area of Table Talk.

PHOTO AP/WIDE WORLD